---
A Career Counselling workshop was organised by Career launchers on 12th December 2022. It was attended by the students of class 11th and 12th. Resource person, Mr Abhishek Pandey, enlightened the students about multiple career options available after qualifying Class 12th He shared information regarding leading Universities and urged the students to opt for the courses as per their interest and potential. He advised the students to prepare for the forthcoming aptitude tests. Overall the session was quite informative and enriching.
---
Synergy--a Techno Fest was conducted by SGT University, Gurugram on 11Nov,2022. It aimed to synergize young minds in creativity & orient students towards research & innovation. 37 students from Class XII, ( Science & Commerce Stream) along with 2 teachers visited the Fest. It demonstrated projects in Science and Technology, working models from medical sciences, management & humanities & other fields. The Synergy projects also displayed scientific solutions for challenges in life like Waste Management, Efficient Transportation, Resource Management, Healthcare Challenges etc. It was a learning experience for all.
---
Pariksha Pe Charcha 2020 was held on 20 January 2020 at Talkatora Stadium Delhi in which our Prime Minister Mr. Narendra Modi interacted with the students and answered their questions on examination related stress. The event sought to not only take away the stress of students appearing in examination but also offered a unique opportunity to meet the Prime Minister and ask him questions face to face. Our School also made necessary arrangements for enabling the students of class 9 and teachers to watch the live broadcast of the event on Doordarshan. This program was very enriching and inspiring for the students.
---
An interactive motivational workshop on the topic Joyful Learning For Students was conducted in the school premises on 13 January 2020. It was conducted by Mr. S.S. Chadha, retd. Quality Assurance Director and Ms. Bhupender Kaur, working in Army Essence of Smile Wellness Centre. Students of classes 8 and 9 attended the workshop. The resource persons apprised the students about the purpose of their life and how to become a good human being. They encouraged them to inculcate the qualities of God- love, kindness and smile in their lives. Mr. Chadha laid stress on self confidence and determination. It was a very inspiring session.
---
A workshop on Online Safety For Women was organised in Heritage school, Vasant Kunj on 13 December 2019. It was organised by government of India to empower women on online safety. Resource person Mr. Rakshit Tandon, an advisory with cyber crime investigation, discussed about the problems faced by the women like stalking, mobile hacking , online scams , bank fraud etc while working online and suggested measures to avoid them.
---
A workshop for students of class 7 was organised on 3rd December 2019 in the school premises by Ms. Seema Malhotra. She addressed the children on the issue of sexual harassment. She discussed the problems and made children aware about the ways and techniques they can utilise while facing these situations. It was an interactive learning experience for the students.
---
An Open Day Event was organised by National Institute of Plant Genome Research ,New Delhi on 23rd October 2019. 23 students from classes 11 and 12 accompanied by a science teacher, Ms. Bhavna Kapoor visited this place. They witnessed latest technology and new inventions in Plant Genome Project, confocal laser, scanning microscope, experimental activities on tissue culture and DNA extraction from living sources. Students enjoyed the visit and the plethora of exhibits left them spell bound. The trip was an enriching experience for them.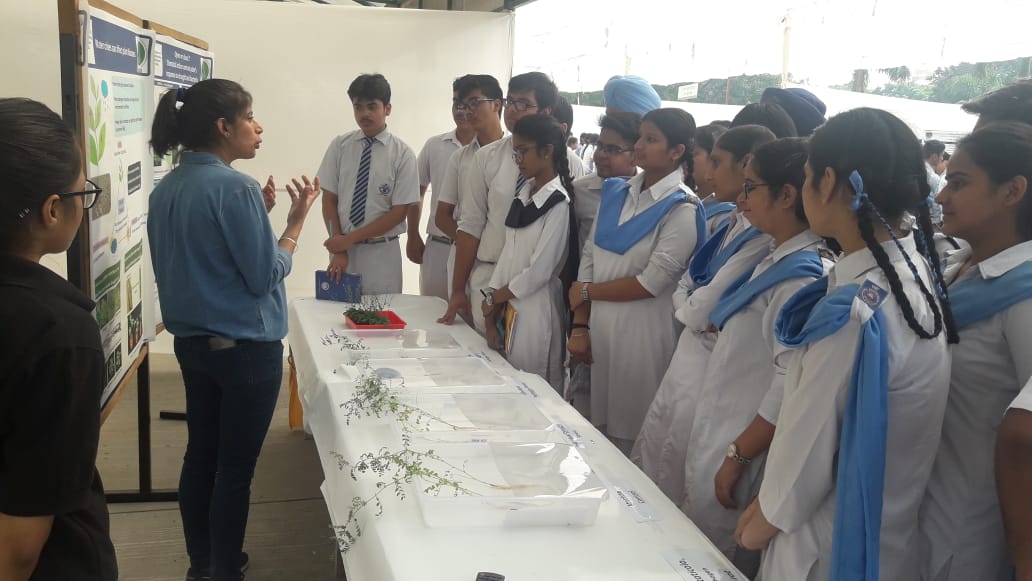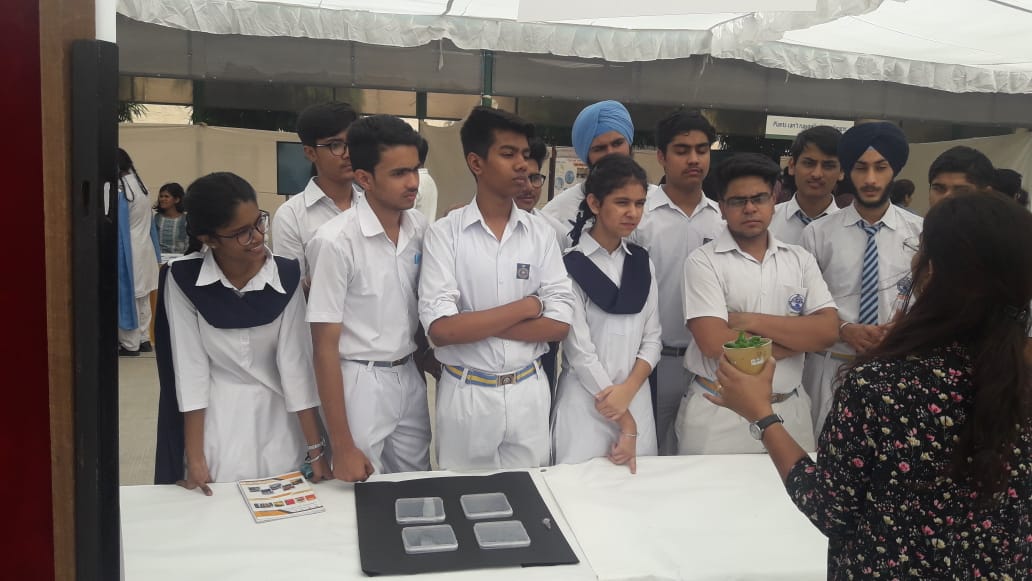 ---
Workshop on Protection of Children from Sexual Offences was conducted in the school on 23rd October 2019. Resource person Mr Rajendra Singh Arora, founder and President of Wish A Smile organised the session. Ms. Sheetal Raghuvanshi advocate in Delhi High court addressed the students of class 10. They were sensitized about various ways by which they can be sexually assaulted. They were apprised of different techniques to protect themselves. Students were asked to develop guesses in advance about the intentions of the offenders. Through the highly interactive enlightening session the students developed an awareness about the incidents taking place in society and the methods to be adopted to protect themselves.
---
The Counselling session on POCSO held in the school on 23rd October 2019 was conducted by two eminent personalities S. Rajinder Singh Arora, founder and President of Wish A Smile and Sheetal Raghav Raghuvanshi, advocate in Delhi High Court. The school Principal Ms. Mandeep Kaur welcomed the guests. S. Rajinder Singh Arora emphasised that child abuse is rampant in schools, homes neighborhoods and public places. He discussed the important features of this act. He stressed on the mandatory role of teachers in reporting any incident of child abuse. The children were sensitized about the various forms of child abuse. Ms. Sheetal Raghuvanshi depicted how children should leave hesitation and report such issues to their teachers and parents. She also talked about sexual harassment of children at school and gender sensitization. The workshop was very informative and gave clarity to the students on a number of points.
---
Students from classes 9A and 9B visited the National Police Museum on 10 Oct 2019. The museum depicted the history, artefacts, uniform and gear of Central and State Police Forces. The students were enlightened about the devotion and dedication of the police all over the country.
---
Total of 5,500 students of Guru Harkishan Public School branches run by Delhi Sikh Gurdwara Management Committee formed human chain at the 2.3 km outer radius of India Gate on September 21st 2019 on the occasion of 550th Prakash Purab of Shri Guru Nanak Dev Ji. Students of classes 6 to 10 belonging to different religion, caste, creed from all branches of Guru Harkrishan Public Schools formed the human chain to spread awareness about the 550th Prakash Purab. They promoted ethos and supported new traffic rules under the amended motor vehicle act. They also spread gender awareness about the Gurbani teaching on dignity of women, water and Environmental preservation.
---
A two days in-service workshop for Eco club incharges was organised by State Council of Educational Research and Training on 6 and 7 September 2019. Ms. Baljeet Kaur attended the workshop. The main objective of the workshop was to make students aware about the environment. The students discussed mainly about the waste generated by us and the harmful effects of it on environment. They emphasized on the segregation of waste at source in blue, green and black Bins so that they can be disposed off accordingly without becoming a problem for environment.
---
An Exhibition was organised in the premises of Ministry of Earth Science on 8 August 2019. 44 students of our school along with two teachers Mr Gurvinder Singh and Ms Ikmeet Kaur visited the exhibition. A questionnaire session was also held in which the students of our school won prizes. Moreover there was a discussion on cyclone, earthquake, tsunami and various other atmospheric phenomena. Overall it was a very informative and interesting session.
---
GHPS, India Gate welcomed the whole GHPS family for an integrated GHPS Social Science, Mathematics,, Punjabi faculty meeting on 3rd July 2019. The meeting started with the welcome note by the School Principal, Ms Mandeep Kaur . Syllabus from classes 6 to 8 was discussed. It was decided to bifurcate the chapters term wise as per the CBSE guidelines. Discussions were held on the setting up of question papers as per the the CBSE pattern. Weightage of marks to be awarded for the open ended questions.
---
Capacity building programme on English core for classes 11 and 12, was organised by CBSE on 24th and 25th June 2019 at CBSE regional office, Patparganj, New Delhi. Many teachers from reputed schools of Delhi and NCR participated in the workshop. Resource person Ms. Ruchi laid a strong emphasis on the objectives of listening and speaking skills, guidelines for assessment of listening and speaking skills, specific objectives of reading, comprehending and note making. The teachers were asked to adopt activity based techniques. The school English teacher, Ms. Harinder Kaur attended this workshop.
---
Capacity Building Programme for science teachers of class 10 was conducted by CBSE on 22nd and 23rd June 2019 at Prudence School , Ashok Vihar, New Delhi. The aim of the workshop was to examine teaching Strategies and skills for effective transaction of science curriculum. The resource persons were MS Veena Mishra and Ms Meenu Tiwari. They laid stress on bloom's taxonomy discussing its applications, analysis, evaluation and creation. The teachers were given a variety of questions .They evaluated each question as good or bad and suggested ways to improve the same. Lesson plan was also discussed. Each participant presented the lesson while the others observed and shared their views on the same. It was an enriching workshop with the lively exchange of fresh ideas and teaching. The school Science teacher, Ms. Ikmeet Kaur attended this workshop.
---
Khelo India CBSE Meet Talent Research organised a workshop for sports teachers at Red Roses Public School, Saket on 22nd June 2019. 83 teachers from different schools of Delhi attended this workshop. The resource persons Ms Sunita Sharma and Mr Roshan instructed the teachers to assess the performance of each child and then send it to CBSE. The school sport teacher, Mr Rajwant Singh attended this workshop.
---
CBSE had organised Capacity Building Programme on Social Science from 30th may to 31st May 2019 at Modern Public School ,Faridabad. The school Geography teacher, Mr. Gurvinder Singh attended this workshop. It focused on the challenges faced by social science teachers at the secondary level. The workshop was conducted by the resource persons Mr Madan Lal Saini and Mr Rahul. They threw light on the National Curriculum Framework. Mr Rahul made the teachers frame ideal lesson plans on any one topic of Social Science during the workshop which was extremely helpful. He emphasized on generating positive emotions within oneself and accepting students without any bad feeling . Working in team with unfamiliar faces was quite exciting and refreshing. The participants were awarded certificate of participation by CBSE.
---
With a view to provide In-Service Training to the teachers of the school, various work-shops were conducted between 20 May2019 to 24 May 2019 under the Resource Development Programme. A workshop on 'Effective English Teaching' was conducted by an ELT eminent resource person Ms. Madhulika Singh on 23 May 2019. She familiarized the teachers with important aspects of Communication-Body Language, Voice tone of the teachers, use of encouraging remarks while teaching, to name a few. She also sensitized the teachers on Student-Teacher rapport for effective teaching. Interesting riddles were incorporated to enhance the lateral thinking of learners..
---
When the teachers gear for new session, they always ask themselves, 'What can we do to make this year most memorable for students ?' Keeping this thing in mind, the school organised a workshop on Display Board Decoration on 21st may 2019. Resource person Ms. Alka Gaba from NIE gave a live demonstration of making beautiful flowers and colourful borders to decorate the display boards. It was a very interesting and innovative workshop.
---
Constitution @70 campaign was organised in the school during the second week of February 2019. This was done under the aegis of Directorate of Education in order to connect the students with the values covered in the constitution of India particularly frames in its preamble so that they can acknowledge and imbibe them in their everyday life and become politically aware and empowered citizens of India. All the students of class 11A were involved in the project. They were asked to write their views on a number of themes . Tushar of class 11A highlighted his views on Equality. It was an interactive session which benefitted all the students.
---
Good handwriting is an essential art of a teacher. To master the art of writing, the teachers attended workshop on Calligraphy on 2nd February 2019. Resource person MS Gurmeet Lamba stressed upon the need for the Teachers to improve their handwriting so that they can support children with spellings and handwriting. Learning the art of calligraphy added another feather to the bouquet of skills of the teachers.
---
Realising the need of stress busters in today's hasty life, a workshop was conducted on Stress Management by resource persons Ms. Kamini Tanwar and Mr. Mayank from Amity University on 18 Jan 2019. Ms. Kamini discussed an assortment of de-stressing techniques. She stressed upon the need of daily exercise and healthy lifestyle. The emphasis was laid on Time Management which is the key to Stress Management. The session proved to be very stimulating as well as stirring.
---
In-Service Training Program for TGT Punjabi was organised from 29th to 31st October by SCERT. It is a matter of pride for the school that our Punjabi teacher Miss Jasvinder Kaur( PGT) contributed as resource person in the same. She encouraged the Government and Aided school teachers to teach Grammar through play way and interactive method.
---
A workshop was organised by Career Abroad Consultants group to guide the students about various job options outside India. Workshop was conducted by two Canadian residents on 17 October 2018 .Their clear vision was to empower children according to Global landscape. Basically, the workshop was aimed at how to help children from different backgrounds and interest to settle abroad .They started with the basic question why should I study abroad and told us about the requirements we have to fulfil to do so. A constructive interaction took place and various questions were raised by the students.
---
9th National Educational Conference was held at All India Pingalwara Charitable Society, Manawala, Sri Amritsar Sahib on 13 & 14 October 2018. The school Principal Ms. D.K Dhingra and one teacher Ms. Tajinder Kaur participated in the conference.
---
Under the aegis of DSGMC , ICSS organized a programme dedicated to 550th Prakash Purab of Guru Nanak Dev Ji on 6 October 2018. Chief guest of the occasion was Dr. Amarjeet S Narang who delivered a lecture on Guru Nanak Dev Ji's response to Contemporary Socio - Political, Religious order. He highlighted Guru Nanak Dev Ji's teachings. Two teachers of the school Ms. Jasvinder Kaur and Mr. Jagjit Singh attended the programme.
---
Under the aegis of DSGMC, a workshop on Teaching Methodology for classes X, XI & XII, was organized by Madhubun Publications at GHPS Hemkunt colony on 29 September 2018. It was attended by two teachers, Ms. Harinder Kaur & Ms Madhu Kaushal of the school. The opening session, conducted by the resource person Ms. Anita Bahadur, was a hands -on session involving all the teachers present. The session was filled with activity like enrichment games and quizzing. She focused on note - making and story- telling methods. Her presentation included poetry, poetic devices, forms of poetry and phonetics. It was an enriching experience as the teachers shared the various strategies and their expertise making teaching methodology interactive and motivating.
---
The fifth edition of Principals' Conclave, a one day conference was orgainsed by The Times of India. It was held to explore ways in which heads of educational institutions, policy makers and thought leaders could create a conducive environment for safe and effective teaching and learning. They emphasised on the best practices to re-energize the Indian Education System by creating the right leadership model. The Conclave was attended by the school principal Ms D.K. Dhingra on 20 Sept 2018 held at The Lalit, New Delhi
---
Continuing with its endeavor to provide an opportunity to the teachers to grow professionally through In- Service Training, Sessions III & IV of the Helga Todd Phonics Training was concluded on Tuesday, 18 Sept. 2018 at GHPS India Gate. Teachers from GHPS Vasant Vihar, Hemkunt Colony and Kalkaji joined the staff of India Gate where not only did they present PPT's on their learning but also on their personal experiences during the course of the application of their learning.
---
A Training programme on Cancer Awareness and Prevention was organised in GHPS Hargobind Enclave On 27 & 28 Aug 2018. Ms Varsha and Ms Randeep Kaur attended the workshop. Trained resource persons from The Indian Cancer Society sensitized the participants about the causes, ill effects and preventive measures of this dreadful disease.
---
A training workshop was conducted by Lung Care Foundation, on 20.08.18 at Scope Complex, New Delhi. Two teachers and two students from our school attended the same. The programme focused on creating awareness about 'Air Pollution' and the launch of B.E.S.T. (Breathe Easy, Stay Tough) Clubs in the various schools of Delhi.
---
A workshop was organized by Fairgaze with an aim to sensitize the student journalists of the school about various aspects of Mass Media as a career on 18 May 2018. They encouraged the student to write a report on the major events happening in the school. They also provided a platform for the student to express their creativity. They guided them to write impressive articles with catchy headlines.
---
A two day phonics Training for Primary and Middle School Teachers of GHPS Schools started on 14 May 2018 at GHPS, India Gate in association with Helga Todd Teachers' Education Foundation. The Resource Person, Mr. Ashish Martin Chauhan held an interactive session with the participants stressing on the ability to model and teach appropriate English pronunciation and enunciation.
---
The Principal Mrs. Davinderjeet Kaur Dhingra, took an Orientation Session on 21 April 2018 with the parents of students who have become a part of the G.H.P.S. India Gate family this year. Apart from introducing them to the glorious history of GHP School, the principal also gave parenting tips to the young parents.
---
A session on prevention of drug abuse was organised for the parents on the day of declaration of result i.e. 28 October 2017. The resource person Ms. Tarunpreet from Drug Free World, India sensitised the parents about this menace and cleared some misconceptions on the topic.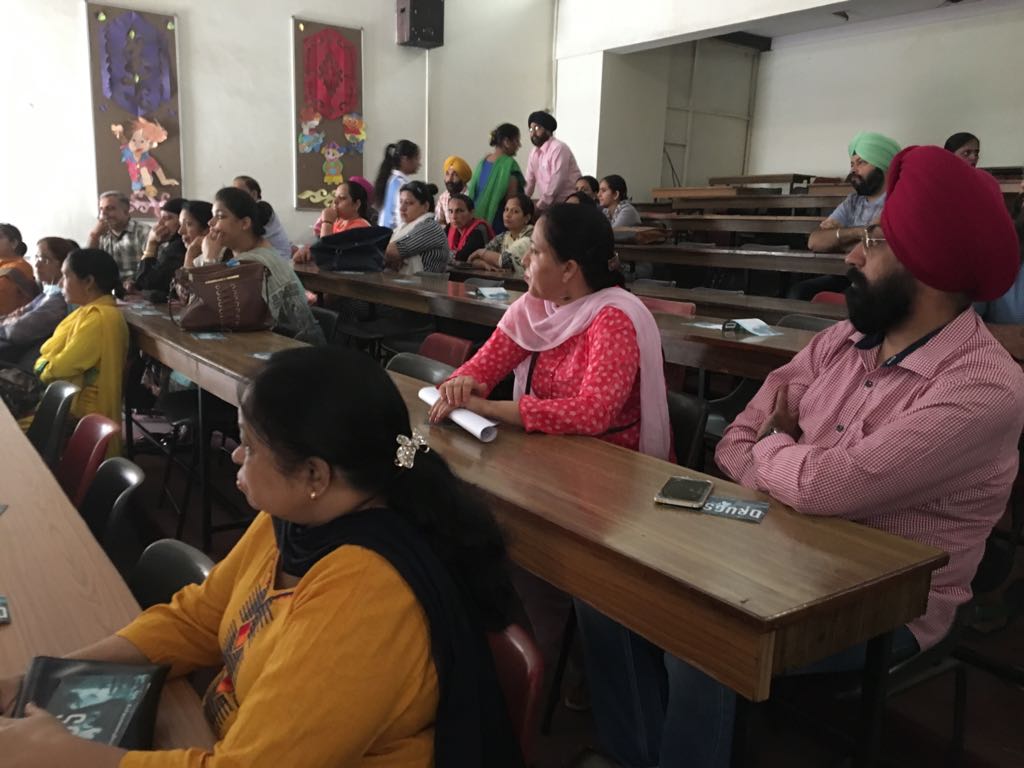 ---
Class V students had a wonderful experience of a Skype session with their counterparts from our collaborative school - KuMalayadeva School, Sri Lanka. The students exchanged information on the types of pulses grown & used in both the countries. They also discussed the different activities undertaken under the project _ Pulsating Pulses.
---
A workshop on Good Touch and Bad Touch was organized for students of Classes I and II on 14 September 2017. It was held to support the cause of creating awareness on child safety. Ms. Geetika Virdi, Counselling Psychologist, Fortis Healthcare, conducted the workshop to teach the children how to identify the No Touch areas, understand who are Safe Adults and how to clearly communicate with parents about any bad experience. She also highlighted how to handle a bad touch by shouting NO running away from the person and informing a safe adult about the same. With this session, children will now able to recognize and protect themselves against such dangers from an early age.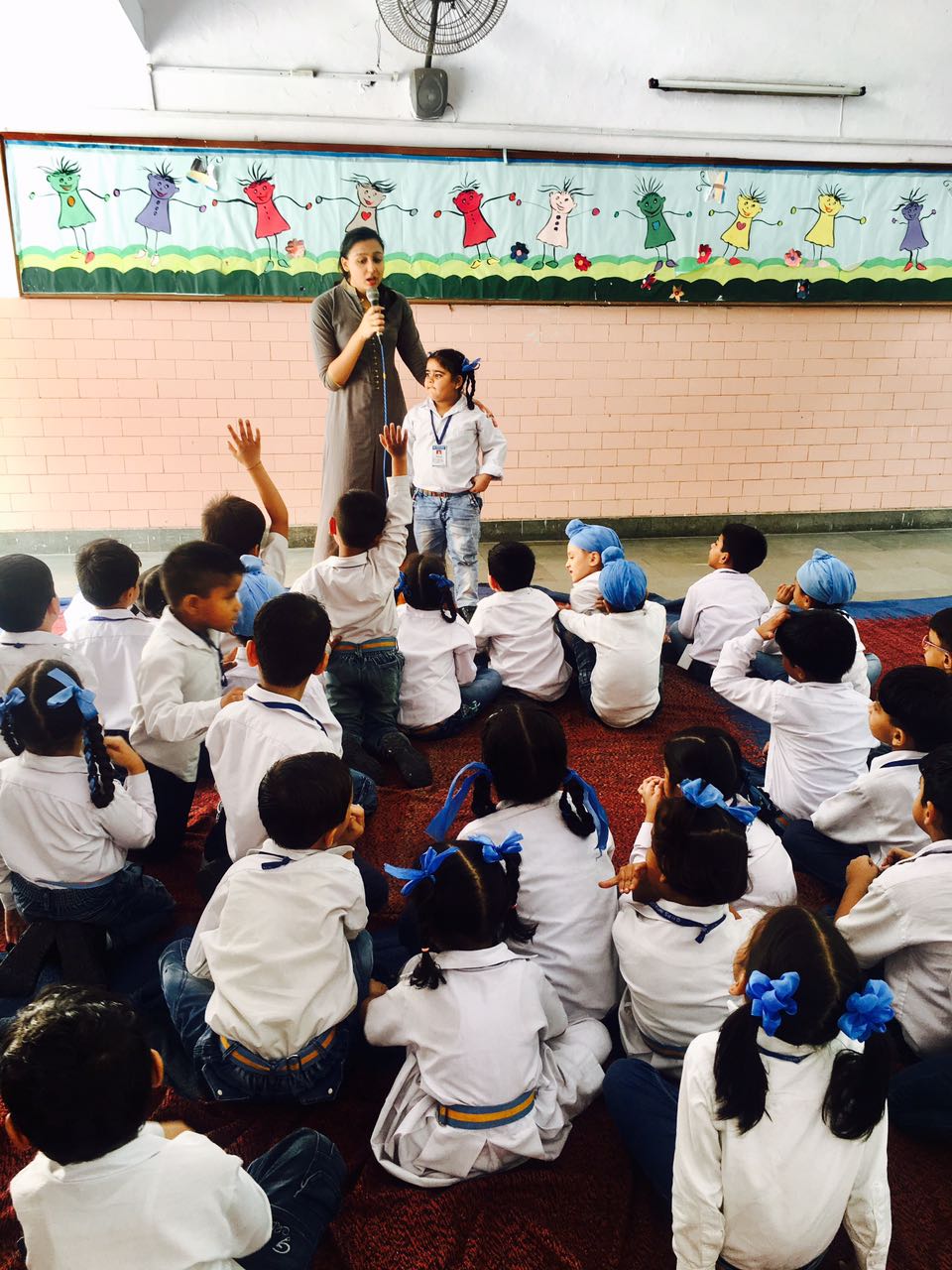 ---
85 th IIGS Camp was held at Dehradun fron 17 June 2017 to 25 June 2017. 18 Students fron GHPS India Gate participated in this camp along with 2 teachers. Two students took Khande di Pahul ( Sacred Amrit) in the Amrit Sanchar. At the camp , the participants were taught to prepare Karah Parshad, do Prakash and Sukhasan of Guru Granth Sahib Ji and to do paath recitation of Nitnem banis.
---
An orientation Programme for the students of Class XII and their parents was held on 31 May 2017 in the school premises. School Principal Mrs. D.K Dhingra shared the highlights of Class XII (2016-17) result announced on 28 May 2017. Students and parents got first hand information about stream wise and subject wise toppers of the school. Students of present Class XII were sensitized about the importance of Additional subject. Students were advised to take up their studies seriously right from the beginning to come up to the desired level of performance. They were motivated to work hard and excel in every field. The emphasis was put on the combined role of parents and teachers to help the students get through this challenging phase with flying colours. The informative and interactive session was indeed an eye opener for all.
---
GHPS, India Gate organized a workshop on 'Improvement of Spoken Language and Communication Skills' on 31 May 2017, under the aegis of DSGMC. The school Vice Principal, Mrs H.K. Walia formally welcomed the resource person , Mrs. Jayshree Guha, a well known accent trainer, a senior teacher from CJM school. Addressing the teachers in the workshop, she highlighted the need to improve spoken language & emphasised on the importance of communication skills in honing one's personality. People with great communication skills tend to have a better and impressive personality. They can easily converse with other people around, be it their fellow workers family and so on. Effective communication skills strengthen the bond among individuals. During the workshop, the enthusiastic teachers were taken through a series of communication practices, games, role plays etc. The school Principal D.K. Dhingra enlisted the objectives of communication skills and conveyed her gratitude to the eminent speaker. The workshop was a great learning experience.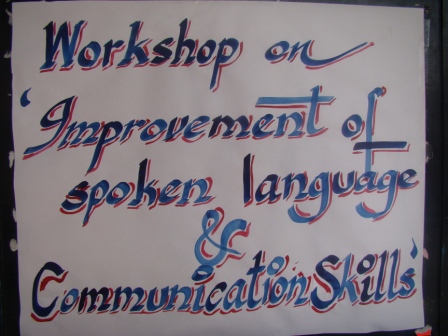 ---
A workshop on Career Decisions and Communication Skills was held in the school premises for class IX on 11 May 2017. The Resource persons Mr. Divas Gupta and Ms Sukhleen Arora from IKICA focussed on Paralinguistics and Kinesics as fundamentals of Effective Communication. Various activities involving participation of students were conducted to make them analyse different career options. It was an informative and interactive session.
---
Mass legal literacy campaign in schools was organized by New Delhi District Legal Services Authority, from 1 May to 8 May 2017. Twenty five reputed Public and Government schools participated in this program. The students of GHPS, India Gate got an opportunity to be a part of this campaign on Wednesday, 3 May 2017. There was an interactive session between the eminent resource person Mr. Jitendra Kumar Mishra, Ld. Additional District & sessions Judge and students of classes IX-XII. The resource person sensitized the students on various crucial issues such as Fundamental Rights, Fundamental Duties, Juvenile Justice, Domestic Violence, POCSO and Laws for protection of Women. The renowned speaker shared his immense bank of knowledge with the students and resolved all their queries. Our Principal, Mrs D. K. Dhingra also shared her views on Juvenile Offences and Access to Justice for All. It was one in _ a_ lifetime chance for the students to meet An esteemed Judge. An enthusiastic & enriching session indeed!
---
A CBSE workshop was organized by GHPS, India Gate on 28 February 2017 on the burning issue of Gender Sensitivity. The resource person Ms Radha Singh enlightened us about Gender Equality and Gender Mainstreaming etc. The workshop was attended by few teachers of the school, Ms Varsha , Mrs Seema Malhotra, Mrs Aruna Keswani and Mrs Moneesha. It was an enriching and rewarding experience.
---
Under the aegis of DSGMC, a workshop was conducted on Cimplify ED for the entire school staff on December 17, 2016. Cimplify ED is a Mobile and cloud based platform to establish a more direct and barrier less communication between the school and the parents. The resource person Mr. Deepak Singla upgraded the teacher,ss knowledge regarding the management of child,s education through Cimplify ED by highlighting the 3 most important Mobile Apps _ Cimplify Parent App, Cimplify Teacher App and Cimplify School App. Productive time of teachers and school staff gets consumed in maintaining attendance register, managing class diaries and sending repetitive information to the parents. With the use of simplify ED, Class Assignments, Examination Schedules, Report Card, Live GPS School/Bus Tracking, School Notices and lots more will be on our finger tips, saving a lot of time. This session was truly informative and in future, this app will provide both school and parents an instant digital access to the child,s education and progress.
---
Helga Todd Teachers Education Foundation & the British Council conducted a workshop for Heads of English Departments of GHPS schools on Friday, 9 December 2016. This Interactive session was organized by Col. Jasbir Singh Nirmal, Director Education, GHPS (New Delhi) Society, at Guru Harkrishan Public School, Vasant Vihar.
Mr. Amal Fabian, the eminent spokesperson from British Council updated the teachers about various methodologies to be implemented to improve classroom teaching. Handouts & worksheets were given focusing on the communicative & vocabulary activities. Emphasis was also laid on the resources & creative teaching ideas to be assisted with the delivery of English language at school level. Mrs. P. K. Ahuja from GHPS (I.G) attended this interactive session. It was an enriching and educative experience.
---
The school principal, Mrs Davinderjeet Kaur Dhingra addressed a group of 160 educators at a seminar for school principals in Chandigarh on 19 November 2016. It went off extremely well and highly appreciated
---
A workshop on Drug Abuse Prevention was held at G.H.P.S India Gate on 19 August 2017. 28 teachers from all branches of GHPS attended the workshop. Ms. Vasu Yajnik Setia and Kapil Arora from Foundation for Drug FreeWorld , India, conducted the workshop. All teachers were given an Educator,s Kit which had detailed information about long and short term impact of most commonly used drugs. The teachers were guided to use the kits to educate the young minds about drug abuse and generate awareness about its prevention.
---
Under the aegis of DSGMC, an English language workshop was conducted on 21st July 2017at GHPS Punjabi Bagh.The resource person Ms Anamika Sharma focussed on various aspects of Effective Communication and acquainted teachers with the latest educational practices through various innovative activities laying stress on TPR i.e., Total Physical Response.The content was relevant, useful and thoroughly enjoyable. The workshop expanded teachers understanding in developing self-management skills in learners.
---
A workshop on Accountancy was organised by Commerce Teachers Foundation (CTF) on 29th July 2017, Saturday at Ryan International School, Sector-25, Rohini. It was attended by 220 teachers from various schools. The resource person a renowned author, Mr. V. Wasan, focussed on various aspects of latest changes in the syllabus of Accountancy, specially treatment of GST and topics from Partnership and Company Accounts. It was an informative and interesting workshop.
---
Our extremely talented Microsoft Innovative Educators and Teacher Educators attending a SKYPE session with the Microsoft Educator Community.
---
Workshop for Accountancy Teachers
Workshop for Accountancy teachers of all branches of Guru Harkrishan Public School was conducted on 26 May 2016 at Guru Harkrishan Public School India Gate. It was an initiative taken by DSGMC Education cell. Resource persons were Mr. S.S. Sherawat retired asst commissioner , Kendriya Vidyala, Dr. G.S Grewal (CA) and Mr R.K Khosla Co-author of Double Entry book keeping for classes XI & XII . The main objective of the workshop was to update the teachers about the changes in the syllabus of Accountancy and designing of question paper for AISSCE 2017.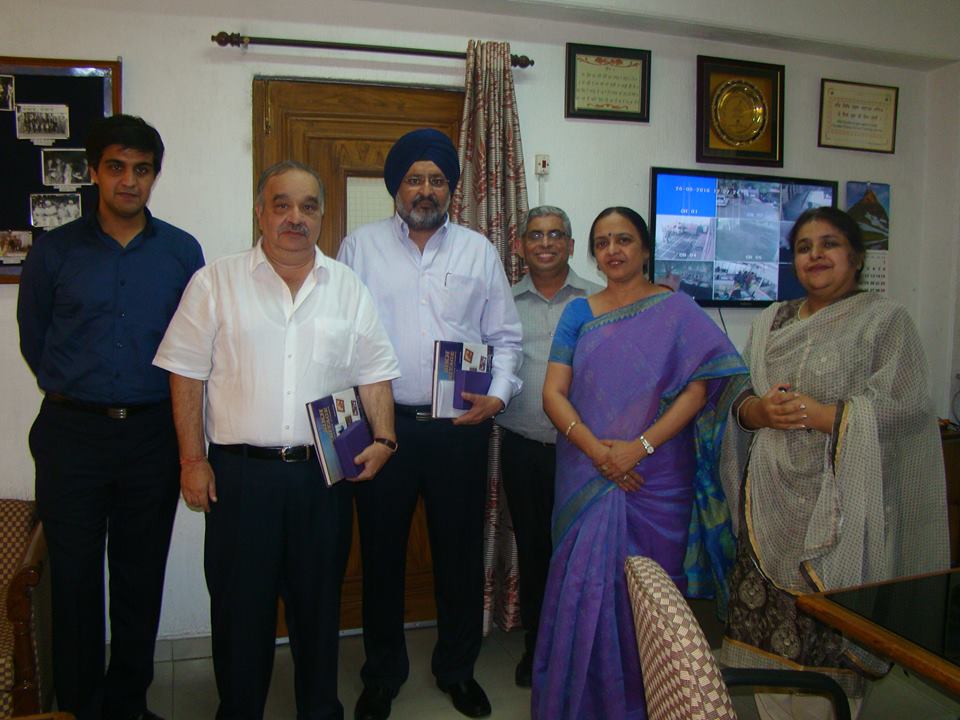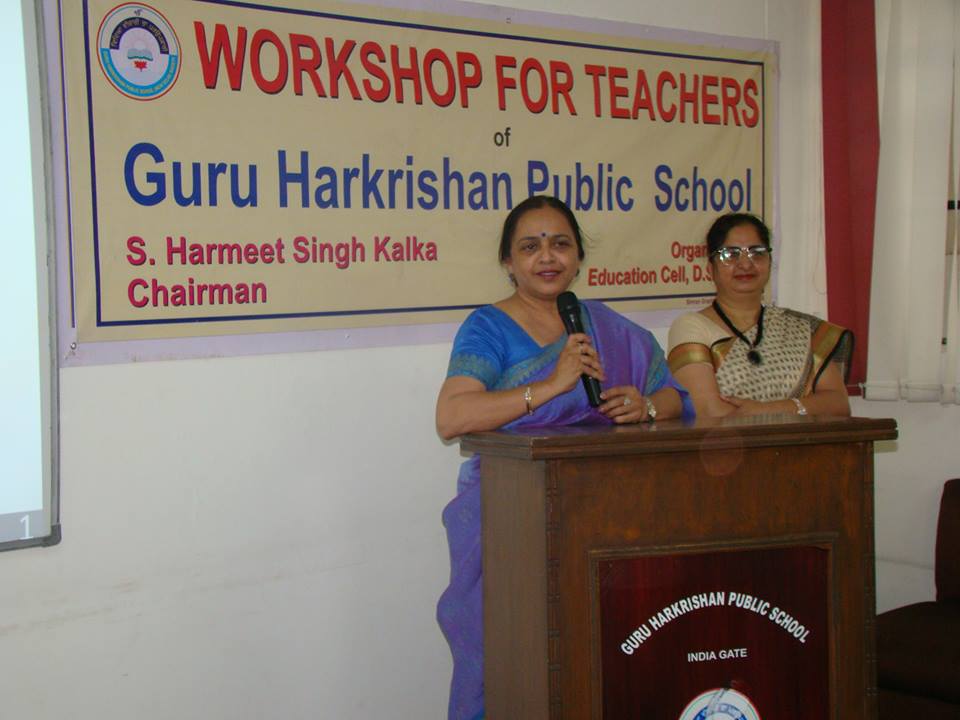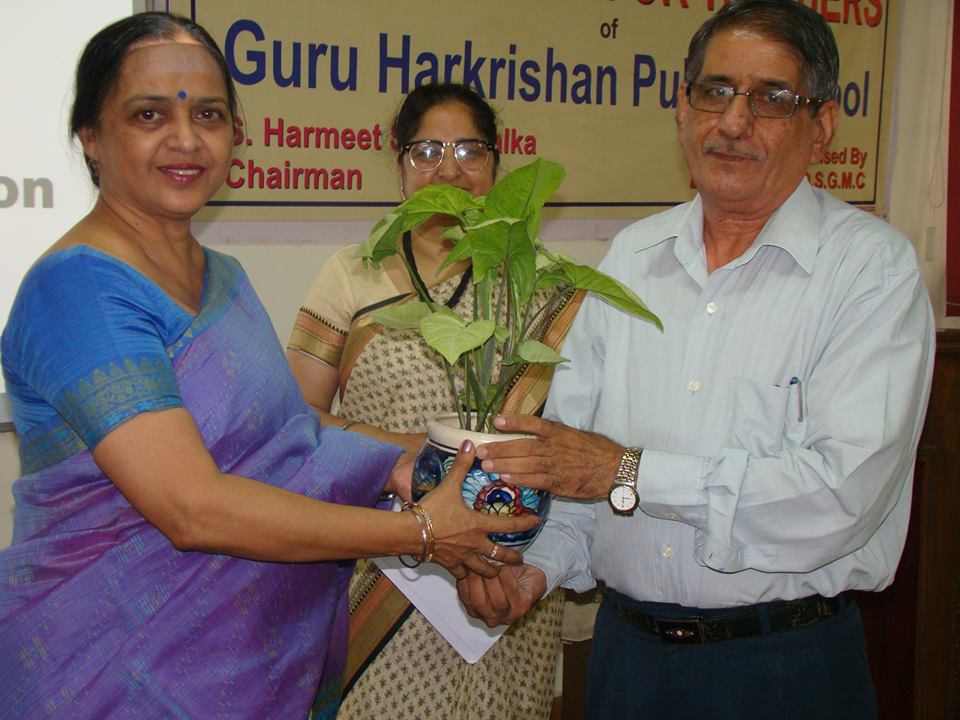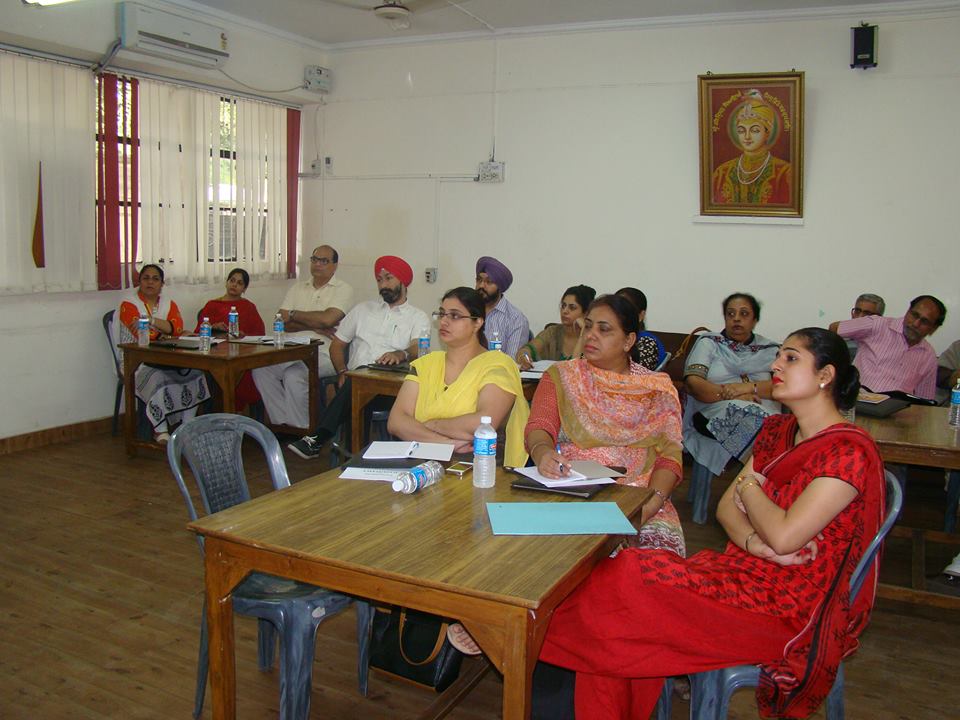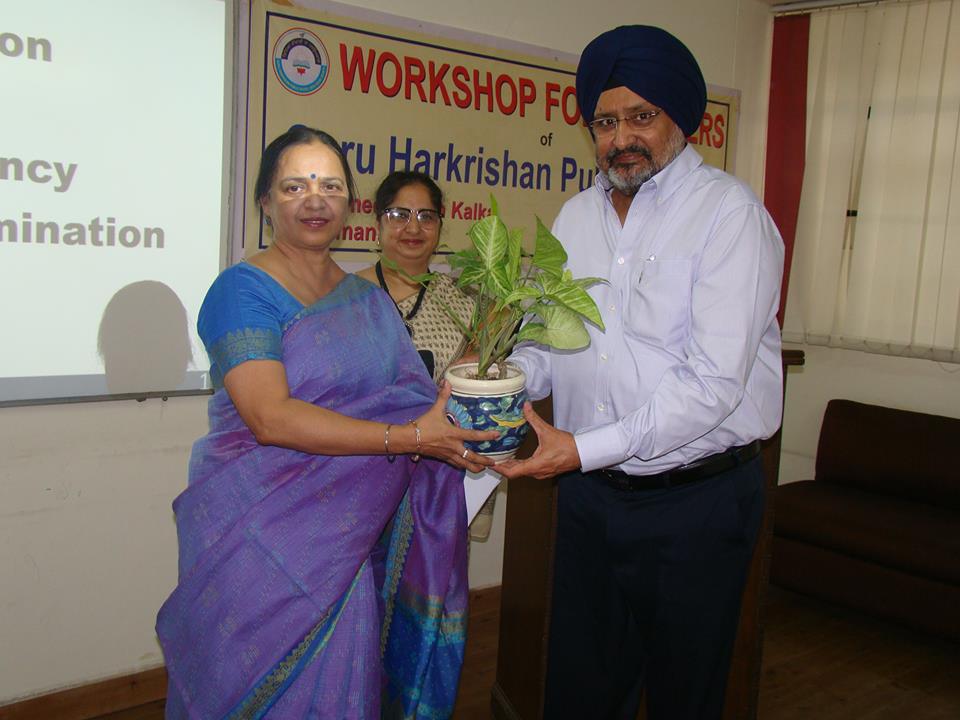 ---
The British Council organised a seminar on Continuing Professional Development (CPD) , which was attended by the school Principal, Mrs. Davinderjeet Kaur Dhingra, Vice principal Mrs Harpreet Kaur and Headmistress Mrs Gurmeet Kaur Virdi
---
Workshop for Business studies Teachers
Mrs. Damanpreet Kaur, PGT (Business studies) attended a workshop to discuss the topology of the question paper for AISSCE 2017. The workshop also aimed at using strategies to make the subject more interesting and motivating for the weak students.
---
A workshop on Media literacy , Fortis Pro-Social Peer Moderator programme was organized by Department of Mental Health and Behavioral Sciences at Fortis Escorts Heart Institute, Okhla on 18 April 2017. The school teacher Mr. Gurvinder Singh along with class XII students Ishan Chauhan, Samiksha , Arshpreet Kaur and Rajat Virdi attended the session. To generate awareness among peer moderators, activities like role plays, art, interactive discussion, posters making etc. were conducted .The students were awarded with certificates and badges. It was a very informative and enriching experience.
---
Visit to Patiala House Court
Students from classes XII and X along with Political Science teacher Mrs. Rajinder Sharma and Economics teacher Mrs. S. K. Bhasin visited the Patiala House Court on 7 April 2017, to observe the proceedings of the Honourable Court.
The Secretary, New Delhi District Legal Service Authority Ms. Shivani Chauhan, apprised the students about the various aspects of Free Legal Aids available to different sections of the society like: women, children seniors and physically challenged citizens.
The students were divided into groups and led to different court complexes--- Family Court, Anti Corruption Court, Additional Session and Cubicals of Metropolitan Magistrates.
At the end, in the Interactive Session, queries of inquisitive students were answered and they were updated with the plethora of laws.
It was an interactive and informative session indeed!
---
Students of our school enthusiastically participated in GD Pro 2017 organized by Manav Rachna University, Faridabad. The contestants participated in preliminary, Quarter Final, Semi Final and Final Round of the competition. Out of over 1000 participants at various levels from different schools across the country, 16 students were selected for the final round on 21 January, 2017 in the University Campus. Meghna Das of GHPS India Gate got the golden opportunity to be a part of the Grand Finale of the group Discussion Competition. She was awarded with the cheque of Rs.1000, a bag and a certificate. All the other contestants also received certificates for participation at their respective levels.
---
Students of Class VIII & our teachers visited New Delhi- World Book Fair 2017 at Pragati Maidan on 11 January 2017. The visit was organized to infuse and enhance the passion for reading in young learners. The students explored many books, collected booklets and catalogues from various stalls. Delhi Sikh Gurdwara Management Committee had also participated in this fair in Hall no. 12. They had put up a stall on books and reading material on Sikhs, Sikhism, Sikh Culture and Heritage. Students participated in various events like panel discussion, story telling etc held at Children,s Pavilion. Knowledge of young learners supplemented with the guidance provided to them by renowned authors and poets present there.
It was an exclusive and enriching experience for everyone.
---
30 students of classes IX, X and XI along with science teachers. Ms Navneet Kaur, Ms. K. Ghai and Ms. Varsha visited India International Science Festival 2016 on December 9, 2016 held at CSIR-National Physical Laboratory. The students were shown some science techniques like fractional distillation of crude oil, charcoal making, Cyclone-protected buildings. Some innovative projects like making Bioplastics from Bacteria, energy from Fly-ash etc. were also shown in which our students took a keen interest.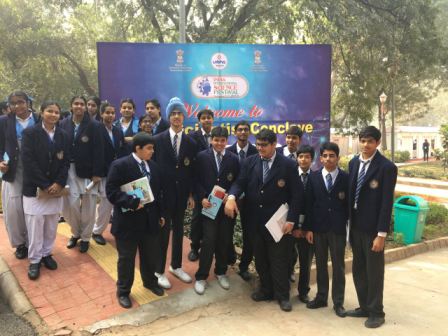 ---
Educational Trip to Mother Dairy
The students of Class VIII were taken for an educational trip to Mother Dairy, Patarganj escorted by the Science teachers Ms Varsha and Ms Pushpinder Kaur on 25 Nov 2016. Mr. Ashok of the Mother Diary plant took the students around showing the Dock laboratory, Silos and Pasteurization Units. The students were shown a documentary on the different steps taken by the Mother Dairy from procurement of milk till its distribution. The students were treated with complimentary flavoured milk and ice cream
---
The Counseling Session was conducted by Mr. Ashish Jain and Ms. Aabha Sukhdev College of Business Studies on 3 Oct 2016 for the commerce students of classes XI and XII. Mr. Ashish emphasized on the importance of studies and motivated the students to improve their current performance. He introduced the students with various courses available for commerce students like B.Com (H), BBA, BBS etc. He also told them about the universities offering these courses i.e. DU, IP and Jamia Milia University. He also told them about the entrance exams of various courses available after Class XII and their weightage as well. The session was attended by 117 students of XI and XII classes respectively. The session was very interesting & enriching for the students as it provided a plethora of knowledge to them. He gave many live examples to create avid interest. The session was attended by the commerce teachers i.e. Mr. Vinod Vij (Accountancy) and Mrs. Damanpreet Kaur (Business Studies).
---
Career Counselling Workshop
Career Competency workshop for the students of class XII was conducted on 19 August 2016 in the school premises. Resource person Mr. Alok Sharma associated with IIFM guided the students about various career options available to them. The students developed an idea about latest changes in Delhi University as well as options outside DU in order to take informed career related decisions. Students were advised to understand themselves better in terms of aptitude and inclination to take wise decisions. This session was an eye opener for the students.
---
Career Guidance Fair
Education Langar (Food for the Mind) in the form of 4th Career Guidance Fair was held on 28th & 29th April 2016 at Gurdwara Rakab Ganj Sahib, New Delhi C.G.F-2016 was organized by DSGMC in association with University Like G.G.S.I.P.U., Delhi University Lovely Professional University, Amity University, Manav Rachna University, Golgotia University, SGT University, Various Institutions such as Aptech, Zee Institutions of Creative Arts etc. besides foreign University. CGF-2016 provided a platform to the students of class IX to XII to interact with educationists and counsellors from the above mentioned University. The students found the session quite interesting and useful as they could gather information about various career options available to them hence enabling them to make a conscious choice.
---
Workshop for Biology Teachers
XV Genetics Congress Trust, organization of eminent geneticist under the chairmanship of Dr. M.S Swaminathan, conducted a 2 days workshop for PGT Biology teachers of Delhi on 19th and 20th May 2016. The topic of the workshop was Basic Genetics and Molecular Biology. The venue of the workshop was National Research Centre on Plant Biotechnology. Both days were divided into two sessions. Lectures were delivered by eminent scientists on various topics related to CBSE curriculum in the form of presentations. The topics of the lecture were Gene cloning, Genetics, RNA and DNA fingerprinting and Human Genome. All the topics were quite informative. The practical topics were DNA Isolation, PCR, DNA restriction, Preparation of competent cells, Transformation, Blue white selection. The students saw the first Gene Gun, DNA sequencers, confocal microscopes. The workshop was attended by Mrs. Namrata Jit Kaur.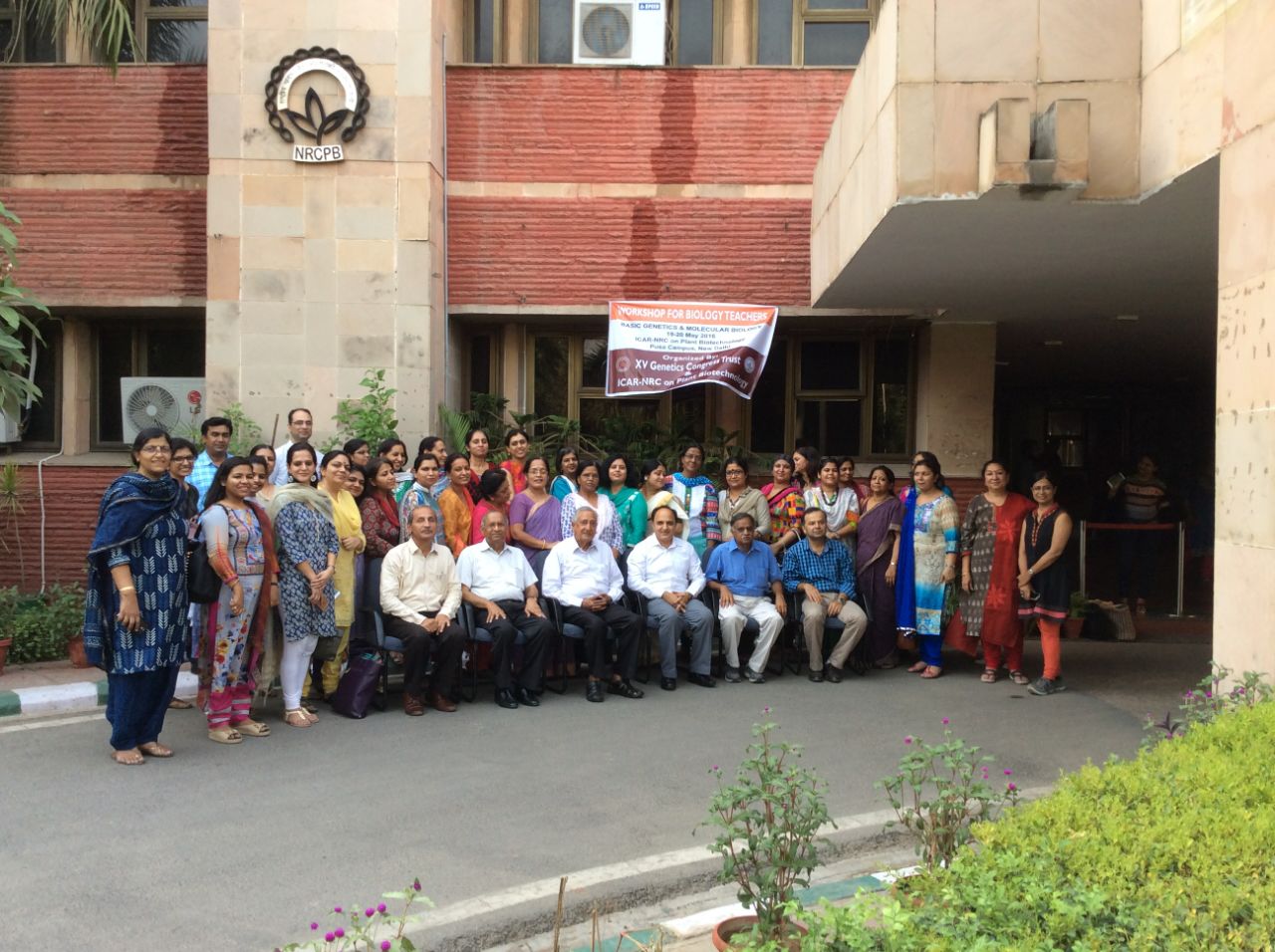 ---
In order to keep pace with genomic revolution and advances in life sciences, National Science Centre organized the inaugural function and workshop for teachers and students in Biotechnology lab on 22nd April 2016. The workshop was attended by Mrs Namrata Jit Kaur. The teachers were sensitized about inquiry-based laboratory investigations. They were also equipped with cutting edge equipment and innovative tools to conduct fascinating experiments from basic genetics and cell biology to modern DNA analysis. A variety of hands-on laboratory experience related to genetics and molecular biology were offered to students of classes VI to XII on some activities like : Isolating the stuff of life DNA, Amplification of DNA segment by thermal cycler ( PCR) .
---
Ten students of class XII from Science stream and Mrs Namratajeet Kaur attended an expo at AIIMS Catalyst 2016. The undergraduate students of AIIMS gave demonstrations on Anatomy and Physiology. The students were made aware of the functioning and mechanism of each organ of human body in Anatomy lab, correlating the theoretical part to the live practical. In physiology lab they were demonstrated about the functioning of muscles and nerves. The students participated actively in each session, the experience was beyond expression. Lastly they were taught about life saving techniques such as Cardio Pulmonary Resuscitation.
---
Students of class XII of Humanity stream had an opportunity to visit Patiala House Court on 21 April 2016. This sensitized the students about the various laws and the justice system. The students were divided into 4 groups and taken to different complexes- Civil Court, Criminal Court and Metropolitan Court. The Secretary New Delhi District Legal service Authority, Mrs. Monika Saroha apprised the students about the various kinds of proceedings in legal systems. The students observed various cases on cheque bounces, loans and were made aware of victim compensation schemes. At the end there was an interactive session held in the Conference Hall where Mr. Dharmesh Sharma- Member Secretary of Delhi Legal Service Authority answered the queries of the anxious students giving them plethora of Laws.
---
Thirteen students of class XII attended the IIT Open House with Mrs Namratajeet Kaur. They visited various Science Departments and attended a short session on 3D printing and presentation on innovative uses of Holography. Demonstrations related to optics showing total internal reflection, interference and diffraction and live demonstration on Modular robotics was also given to students. In the Biotechnology department different bioreactors were shown to them. They were apprised about the various products used for therapeutic uses in R and D. At the end students visited the Computer lab where paperless attendance through low energy Bluetooth was demonstrated live and with the help of research posters.
---
ROBOFEST 2016
A term of three students Mohit Sehgal, Srisudhan Velu and Divyansh Gaba of Class VIII attended the Robofest,as part of the Innovation fair held at National Science Centre, Pragati Maiden from 22 January 2016 to 24 January 2016. The students enthusiastically participated in the activities conducted at the fest.
A workshop to equip the teachers for Class Room of the Future was organised in the school Ms Swati (Microsoft)and Ms Seema (Microsoft)were the resource persons. The aim of the workshop was to update the teachers with the use of Office 365 and one note application.
---
On 8-9 January 2016, Divinity Teachers attended a National Seminar on BABA BANDA SINGH BAHADUR at Mata Sundri College, organised by International Center for Sikh Studies.
---
Mrs Ikmeet Kaur attended Physics Workshop by Mr. Suraj Prakash an eminent panelist with UPSC, NCERT, CBSE, Dr Radhakrishanan Awardee, National Award from Dr. APJ Kalam on 26 December 2015, Saturday at GHPS Hemkunt Colony orgainsed by DSGMC.
---
Mrs Harpreet Kaur and Mrs Sidhu attended Mathematics Workshop by Mr.S.N Chibber on 21 December 2015, at Guru Gobind Singh Bhawan , Gurudwara Rakabganj orgainsed by DSGMC.
---
Mr Vinod Vij attended Accountancy Workshop by Mr. G.S Grewal on 12 December 2015, Saturday at GHPS Kalkaji orgainsed by DSGMC.
---
Mrs P Gulati attended Economics Workshop by Mr. Rekha Sharma apex educational bodies like CBSE,NCERT,NIOS,SCERT on 5 December 2015, Saturday at GHPS Punjabi Bagh orgainsed by DSGMC.
---
Punjab and Dininity Teachers attended a lecture on GURU GRANTH SAHIB by Dr Paramveer Singh on 5 December 2015, Saturday at Guru Gobind Singh Bhawan , Gurudwara Rakabganj by International Center for Sikh Studies.
---
Mrs Ikmeet Kaur and 4 Students of class XI Angad Singh ,Rohit Bharti , Ayush Shankar and Maneet Singh Modi attended Science Camp at Kirori Mal College on 7 December 2015 orgainsed by Department of Science and Technology and DSGMC.
---
Mrs Karanpreet Kaur Sethi attended the Orientation Training on POCSO ACT, 2012 for school Principals and teachers from 1 to 2 December 2015 at National Institute of Public Cooperation and child Development -NIPCCD , New Delhi. The main objective of the training programme was to sensitize the participants about the sexual offences committed against children and provision under POCSO Act 2012 to protect child right.
---
A Rejuvenating Workshop for Teachers
Guru Harkrishan Public School , India Gate organised a workshop for its staff on Nov 6, 2015 aiming at three R, s relaxing , rejuvenating and replenish . The Guest Speaker , Mr Sanjeev Datta , encaptured the audience by means of his highly theatrical and interactive style. Not only did he make the audience perform some quick meditation exercises to de-stress the mind, body and soul and instill positivity, he also highlighted the importance of the three E s_ expressions , emotions and energy regulation breathing techniques . The school principal Mrs Dhingra thanked Mr Sanjeev Datta for his inspiring session and urging to unhold the importance of smile as emphasised by the speaker , wished everyone a prosperous festive season.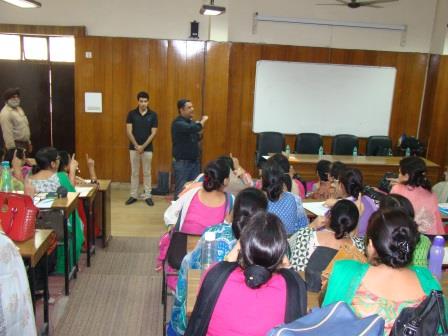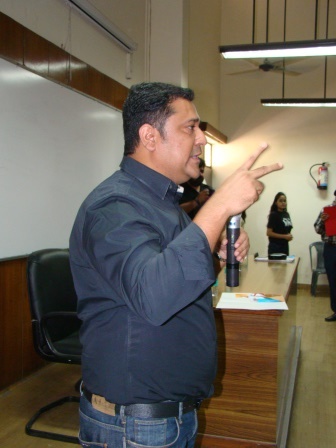 ---
CBSE in collaboration with Oracle Academy has been organised Professional development programmes for Computer Science teachers of CBSE schools. In this regard a five days training programme on Java Fundementals is scheduled to held at CBSE center of Excellence Gurgeon from 20 July 2015 to 24 July 2015. Mrs Satbir Kaur and Mrs Daljeet Kaur attended this workshop where they teaches Alice, greenfoot and Eclipse software.
---
Sultan Chand and Sons Ltd had organised a workshop of Accountancy on 17 July 2015 at Techica Institute , Rohini. The resource persons were Dr. G.S Grewal is (CA) and Rakesh Khosla . Dr. G.S Grewal is the author of Double Entry Book Keeping (Financial Accounting ) for class XI and Double Entry Book keeping (Partnership firms and companies Account), Analysis of financial statement for class XII. Dr. G.S Grewal discussed in detail about recent changes in syllabus design of question paper and typology of question. He also discussed value based and Hots questions in workshop. He explained in a very simple and interesting manner the topic of Employee Stock option Plan (ESOP) and creations of D.R.R for the purpose of Redemption of Deberetures.
---
The Commerce Teachers Association now known as Commerce Teachers Foundation (CTF) had organised a workshop of Accountancy a workshop of Accountancy on 25 July 2015 at St. Angel School Rohini Sector-15 Delhi. The resource person was Prof D.K Goel an eminent author of various Accountancy books. Mr. Vinod Vij attended the workshop . It was the latest changes in CBSE syllabus for the examination 2016.Two sessions were taken by Prof D.K . Goel . He dissussed in detail about company Account 2013 specially discussed Employee Stock Option Plan (ESOP) and Redemption of Debentures.
---
The CTA organised a workshop at Bal Bharti Public School on 11 July 2015 where the resource person Dr. T.N Chabra, discussed the changes in curriculum of Business studies for the session 2015-16 and discussed a few case studies related to latest design of question paper. Mrs Damanpreet Kaur attended the workshop.
---
Workshop on Behaviour Management
An interactive working workshop on Behaviour Management for Effective Teaching was held on 30 June 2015 in the school premises. Resource person Mrs Anu Singh from NIE, Times of India, gave various tips like building rapport with the students, paying more attention towards weak students, dealing with differently abled students. The teachers were given first hand information about proper classroom management to be wise and sensitive while dealing with the children who need counselling.
---
Workshop on " Techniques in Life Science"
DBT Star college program -2015 organized a workshop on " Techniques in Life Sciences" on 02-06-2015 at Department of Zoology , Hindu College, University of Delhi on new techniques introduced in the school syllabus was highlighted. The resource person Dr Anju Srivastava, demonstrated the experiment on how to isolate DNA from animal source and the study of mitosis using onion root tip and study of meiosis using grasshopper testis. This workshop was attended by Ms. Namratajit Kaur.
---
Sikh International Youth Camp
Sikh International Youth Camp was organized on June 20-28, at Dehradun, in which 15 students along with one teacher, Mr Jagjit Singh, participated and learned about great Sikh heritage , history and culture. The camp activities included educating the campers the Sikh Way of life ; Personality development , Sports, Games, Hiking and teaching path, kirtan and kesh and beard management.
---
VISIT TO IIT OPEN HOUSE
An IIT Open House was organised on 18 April 2015 (Saturday) in which eighteen students from Class twelfth, along with two teachers Mrs Ikmeet Kaur and Mrs Namratajeet Kaur, visited the different departments.
The inaugral program included a presentation on innovative uses of 3D printing which included 3D doodler, 3D building etc. followed by a demonstration on holography effect and optics showing total internal reflection, interference and diffraction.
The Chemistry Department showed the talent of IIT students in the form of Elephant toothpaste, Dancing sodium, Freezing effect of nitrogen, Colour changing milk, Density tower etc.
In Biotechnology department different biotechnological tools were demonstrated to the students. The experiments were related to cloning and DNA isolation. We also visited Biomedical engineering department , the topic on Drug Delivery by Nanotechnology was introduced to the students with the help of posters.
---
Popular Science Lecture How Genes are born
On 19 January 2015, World Science Centre organized a popular Science Leacture on How new genes are born by Dr (MS) Eve Syrkin Wurtele, professor lowa state university , USA. Twenty students of class XI attended the lecture. They had healthy discussion with the professor on some novel ideas how genes are generated. The session overall was quite interactive.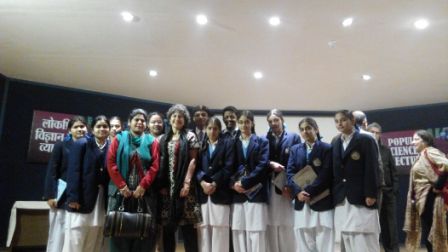 ---
Inter School Accountancy Skit Competition
Students of our school participated Education through theatre Masti ki Pathshala where the students simplified Accountancy Concept through skit presentation at Mount Carmel School Dwarka sector 22 on 14 Jan 2015. Dr. P. C. Jain Principal of Shri Ram Collage of Commerce and Mr G.S Grewal and Mr. Sandeep Sethi C.B.S.E education officer motivated the student by appreciated the efforts in such a novel insufficient. Our School got the 4th position. The judges appreciated the efforts of the students as eleventh class students performed the skit on a twelfth class concept Realisation Account .
---
Workshop Safety Risks Management
A teacher,s Training of Trainers Programme on school Safety Risks Management was organised by NIDM from 28th to 30th January 2015 and was attended by Mrs. Moneesha Singh. The primary strategies under the programme were to place school safety on the education agenda and to build a school safety team involving all stakeholders Dr. Rtiu Raj of NIDM had invited many eminent speakers to discuss concepts and techniques for survival in any kind of disaster. Practical demonstration in fire and earthquake safety and first aid and survival techniques were also part of the programme. The programme concluded by a valediction ceremony headed by Mr Sandeep Sethi of CBSE and Dr. Ritu Raj of NIDM.
---
Alice Workshop
An Alice workshop was organised by CBSE and Oracle Academy for teachers. 40 teachers from different schools of Delhi participated in the workshop. Two teachers of our school Mrs. Daljeet Kaur and Ms Harleen Kaur also participated in this workshop from 3 Dec 2014 to 5 Dec 2014 at DAV Pushpanjali Enclave. The resource person was Ms Geetanjali who is associated with Oracle Academy. She taught teachers about the Alice software introduced by Oracle Academy. Alice is a software which uses a drag and drop environment to create computer animations using 3D models. It provides tools and materials for teaching and learning computational thinking , problem solving and computer programming across a spectrum of ages and grades levels.
---
Workshop at Sanskar school , Jaipur organized in collaboration of CBSE
Mrs Harpreet Kaur , Vice Principal along with three students of class XI attended a workshop at Sanskar school , Jaipur organized in collaboration of CBSE from 5 December 2014 to 17 December 2014 on , Maths Simplified , for the students of the present times for whom Mathematics causes highest level of anxieties . The innovative venture aimed at making Maths teaching learning more interesting and easier to comprehend. The workshop resulted in generation of video modules on the entire syllabus of XI Mathematics by the teachers and students of the participating schools.
---
Mrs Harpreet Kaur participating at GYANODAYA_ A. Principal , Sr Teachers, Counselors Meet on Social Media in Educational Institutions at Bhartiya Vidhyapeeth University, Paschim Vihar on 28 Nov 2014.The meet focussed on the impact of online social networking on our lines and discussed ways means to make the impact positive.It was stressed that we as an important stakeholden in the education system should try to use Social Media for improving the teaching learning process and thus benefilling all the stakeholders.
---
Mathematics Workshop
The Mathematics Teachers of all the Guru Harkrishan Public School along with two students from each branch attended a workshop at CBSE Shiksha Sadan. The workshop aimed at guiding teachers and students to develop presentations on core areas of Mathematics syllabus of classes XI and XII.
---
Workshop On Stress and Time Management
Students of classes XI and XII had an interesting and interactive session on stress Management and Time Management on 16 Dec 2014 in the school premises . The workshop was conducted by Mrs Vandana Tandon in collaboration with The Times of India . Various tips on distressing were given to the students. The Students also learnt to follow proper sleeping pattern and eating habits through the workshop. Various techniques through which they could manage times were also discussed.
---
Workshop at Sanskar school , Jaipur organized in collaboration of CBSE
Mrs Harpreet Kaur , Vice Principal along with three students of class XI
Gurpreet Singh
Ishpreet Singh
Jaspreet Singh
attended a workshop at Sanskar school , Jaipur organized in collaboration of CBSE from 5 December 2014 to 17 December 2014 on , Maths Simplified , for the students of the present times for whom Mathematics causes highest level of anxieties . The innovative venture aimed at making Maths teaching learning more interesting and easier to comprehend. The workshop resulted in generation of video modules on the entire syllabus of XI Mathematics by the teachers and students of the participating schools.
---
Environmental Campaign Coach them Young
Cummins India Ltd country leading manufacturer of diesel and natural gadgets engines conducted two sessions in topics Garbage disposable and water conservation with class IX and X. The purpose of the campaign was to create and reinforce awareness amongst children on protecting environment. About 300 Students participated in this interactive session.
---
Workshop regarding Admissions in International Universities
Workshop for class XII students was conducted by Sonya International Education Centre on 17 Nov, 2014. Students got the basic understanding about various under graduate and post graduate courses available in Australia, Canada, and Singapore Ms Anubhuti from Siec spoke volumes about the opportunities available to the students. Students are enlightened about the entry requirements, scholarships available costs involved for the courses and work permits. One to one interaction towards the end of the session would definitely prove beneficial for our aspiring students.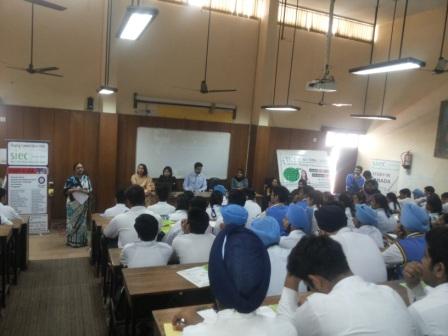 ---
Students of class VIII went to see the Exhibition held in Gurudwara Bangla Sahib. Questions were put up related to Divinity. Two students of class VIII A Avneet Singh Sohi and Rai bagged prizes for the same.
---
Fifth National Educational Conference on Good Teaching Methods and Responsibilities
Mr. Jagjit Singh and Navneet Kaur attended a workshop on 16 October 2014 to 19 October 2014 at All India Pingalwara Charitable Society , Manawala , Amritsar organised by Atam Pargas Scial Welfare Council , Ludhiana. DR. Varinder Pal Singh, Soil Scientist , P.A.U in his opening address outlined the 4 objectives of the workshop.
Moral happiness in a students personality.
To build a drug free society.
To establish a responsible and honest work culture.
to understand one,s responsibility to preserve nature.
All present in the workshop took oath for the fulfillment of the above objectives. The workshop was addressed by many learned speakers who included Dr. Inderjit Kaur , Service Incharge Pingalwara, Dr. Berijpal Singh, Ex. Prof Lal Bahadur Shastri Academy of Administration , Principal Narinderpal Singh Delhi, Dr. Nachhattar Singh , Vice Chancellor, Guru Kashi University, Talwandi Sabo Bathinda , S. Paramjit Singh Rana Chairman Dharam Prachar DSGMC , S. Kulmohan Singh , Chief Advisor DSGMC and many more.
The speakers deliberated upon how to make education value based and interesting . The responsibilities of an educational institution to create talented citizens of future.
---
Progressive Development Programme

Continuous Progressive Development Programme by the G.H.P.S Society under the aegis of DSGMC was formally inaugurated on 9 Sept 2014 at Lakhi Shah Vanjara Hall, Rakab Ganj Gurudwara New Delhi. President DSGMC S. Manjeet Singh Ji G.K, MLA and General Secretary S.Manjinder Singh Ji Sirsa and dignitaries were accorded floral welcome by the Principals of various branches of GHPS. Chief guest of the day, Education Officer, CBSE, Mr. Sandeep Sethi and the guest of honour, Education Officer , zone 26, Mrs. Omeshwara Singh congratulated the society for venturing into continuous progress of the staff. Mr Sandeep Sethi advised the teachers to have maximum participation in various activities, S Manjeet Singh Ji G.K advised everyone present there to inculcate Gurus preachings in their lives.He also shared various innovative programmes with the audience.

The entire programme was managed efficiently by the Honorary Secretary, GHPS society Mrs. Jasmeet Kaur and the Principal, GHPS India Gate, Mrs. D.k Dhingra .Mrs Jasmeet Kaur expressed her gratitude to the management for implementing 6th Pay commission which the staff acknowledged with a standing ovation.

The In Service Training Programme spread over a period of one and half months will be conducted by Helga Todd Teachers Education Foundation .The master trainers Ms. Roberta Bird, Ms Elizabeth Taylor and Ms. Bannett shared their happiness to be a part of this programme. Deputy Director Edu. Cell, Mrs R.K. Kohli proposed a vote of thanks.
---
On the occasion of World Science day, the students of class XI and XII Science stream attended the popular science lectures delivered by esteem professors from All India Institutes of medical science organised by National Science center on 10 and 11 Nov 2014. In two sessions the topics were Crystallography : Impact on the World by Prof. Puneet Kaur and The eye normal function and common disorders by Dr.Yog Raj Sharma , Chief Dr. R.P centre for Ophthalmic Science (AIIMS)
---
A vocabulary session
A vocabulary session was organised by Pratham for the students of class XI on 1 sept 2014. Its aim is to teach the students vocabulary in a very innovative method. They have used the technique mnemonic for the very purpose as it is based on the observation that a human mind easily remembers while making use of audio visual aids. Learning methodologies will definitely help the students become confident speakers.
---
A Visit to Metro Museum
The students of class VI visited the metro Museun at patel chowk Metro station, New Delhi on 29 Aug 2014. The big model of the Metro Train enamored the students. Everyone present there appreciated the hand crafted model of the train. The students enjoyed the pictorial history of Delhi Metro. They got a chance to have a glimpse of DMRCS achievements.
---
Growing Family Conflicts in Families-Causes, Impacts, Way Forward
The two teachers of our school namely Ms. Harmeet kaur & Mrs. Neelam Lamba participated in a seminar presented by Quest for knowledge foundation titled Growing Family Conflicts in Families-Causes, Impacts, Way Forward on 29th March 2014 at Hotel Eros, New Delhi. The key note speaker of the seminar was Shri Mahesh Bhatt (Eminent film maker, writer and Social Activist).The talk covered introspection on marriages and family trends, behavioral patterns, change in outlook of society and its impact on children, especially those in broken and troubled families.
---
GIS (Geopraphic Information System) Workshop
The students of our school participated in 2nd GIS Workshop, titled 'Sensitizing Schools with the versatility of Geographic Information System' held at IIPA (Indian Institute of Public Administration) on 19 Nov 2013.
WORKSHOP ON GENDER ISSUES
Teenagers are in an interesting phase of growing up and they need a safe space in school where they can explore this aspect of growing up. They need to learn to be secure in their identity rather than live with nagging doubts. They need to be taught to develop healthy relationships of mutual respect with the opposite gender instead of becoming insecure, fearful or violent.
To address this concern , an interactive workshop designed specifically for 11 graders called Gender Issues was conducted on 23/10/13 in the school premises ,through on the spot debates, video presentations and games. This workshop gave teenagers an opportunity to contemplate issues critical to their own personal development and the current state of our nation. Students learnt to celebrate themselves as they are, think through wider concerns and reflect on what needs to change in our attitudes and mindset on gender.
---
Empowerment Programme 2013
New Delhi 10th August 2013: A workshop on Professional Development was conducted in Guru Harkrishan Public School, India Gate. The resource person was our School Principal Mrs. Davinderjeet Kaur Dhingra. The programme informed the teachers about the universal values and high level achievements. The mission of the programme included the various professional developments enabling the teachers to reinvent themselves. The teachers were enriched with various examining and assessment practices. A short interactive and interesting exercise was conducted named Goal Shoal. All the teachers enjoyed and participated enthusiastically. A very informative and interactive session indeed! .
---
Lectures on Astronomy and Astrophysics
A Popular Science lecture series on main theme Astronomy & Astro physics was organized at national science center from 21th to 28th August 2014. Students of class XI and XII of our school attended these lectures on the topic Galaxies and the Universe delivered by Dr T.R Seshadri , Professor , Department of Physics and Artrophysics , University of delhi and Frontiers of Cosmology I delivered by Dr. Pranjal Trivedi , Assistant Professor Department of Physics , Sri Venkateswara college. The speakers talked about various themes such as nature of distribution of matter in universe , formation of stellar clusters ,star clusters, globular clusters, CMB (Cosmic Magnetic Background) Radiation , blackbody radiation , expansion of universe etc. Students were well informed about the topic of the lectures. It was an enriching experience as the students were able to learn something outside the scope of textbooks.
---
Demonstration on Aero-modeling And Robotics
A demonstration was conducted by Peagla Edu Solutions. The aim was to provide fertile grounds for young minds to explore and nurture growth depending on their aptitude and liking. The students of class 7th and 8th participated in the workshop. They gained a lot of knowledge for both activities i.e . Aero-modeling and Robotics. It was indeed an informative and a stimulating experience .