Pre-Primary Corner
An activity was conducted on 28.11. 2019 by the students of class Nursery. They recited a few lines on the topic The Sun using props and were very excited to speak over the mike.
An activity of making Stick Puppet was done by the students of Nursery on the occasion of Dussehra on 7 Oct 2019.
Students of Nursery participated in Say No To Plastic Drive from 1 Aug to 16 Aug 2019.They held banners in their hands, recited rhymes and slogans for the awareness and requested their fellow friends not to use plastic bags .
Tree Plantation Drive was conducted in school within which 35 trees, 50 shrubs and 37 herbs were planted from 1st August to 16th August 2019.There was a great deal of enthusiasm among the students of primary segment.
Independence Day was celebrated on 16th August 2019. The students of Nursery came in the white dress. They made badges and recited few lines about The National Flag.
Primary Segment participated in Sakhi Rendition competition held on 14.8.2019
Fancy dress competition was held on 10.8.2019(primary segment)
During the month of September students of Pre-nursery enjoyed making 3D fruits. They learnt about the nutritional value of the fruits.
On 21.09.2018 students of Pre-nursery learnt clay moulding .
Students of Pre-nursery as Natkhat Kanha enjoying in the school with Mukuts designed by the teacher on 4 Sept. 2018.
Pre-nursery celebrated Yellow Day on 27th July 2018. Children came in yellow attire , they brought yellow eatables n yellow fruits in the tiffin. They learnt concept of Curve also by making flowers and Umbrellas with mosaic work and colouring .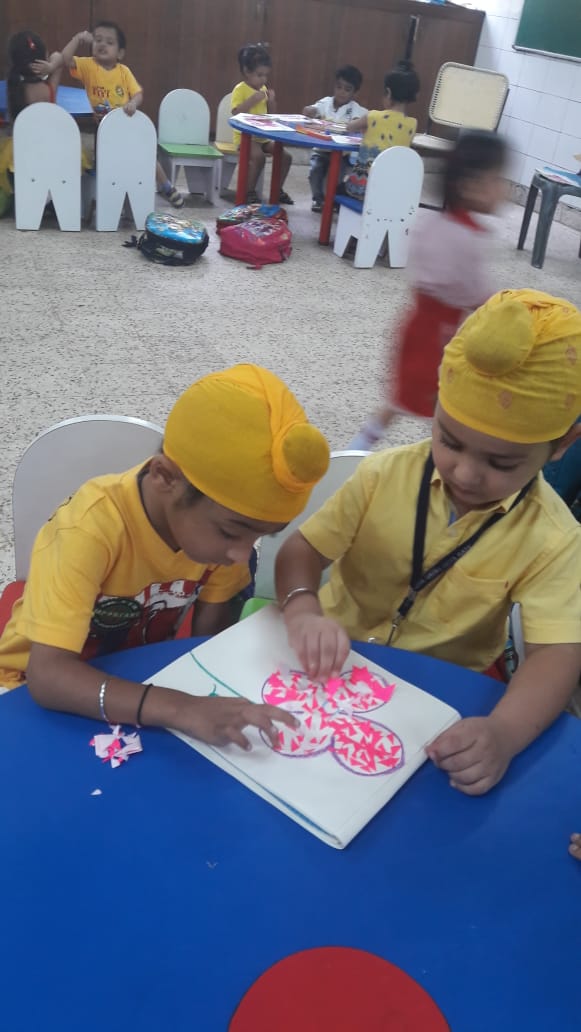 Yoga session for Pre-nursery on 6 July 2018.
On 17th May 2018, the students of Pre-nursery performed AEROBICS. They were super excited while learning it.
---
Students of Pre-nursery celebrated Mothers Day on May 11 , 2018. They danced, sang rhymes and learnt to greet mothers.- click here to see video
The First Stage performance. Dedicated to 'My Mom'- click here to see video
Students of Pre-nursery learning concept of Circle in an interesting way. They also learnt different shades of green by making a tree.
Singing and Learning rhymes
Keep calm & Listen to the music
Pre -Nursery kids enjoying in the activity room ,learning through play way method.
The little hearts of Nursery were filled with ecstasy as they all enjoyed a 'Summer Bonanza' activity.Children came dressed up in Hawaiin Theme.They danced on Goan beats.Rhymes on summer fruits and talk on summer attire familiarised the students with the season.
click here to see video
Learning through Activities . Pre Nursery tiny tots learning Standing lines .
Little munchkins of Pre-nursery enjoying Yoga and meditation session on 26.4.2018.
The tiny tots of nursery celebrated Earth Day with much vigour.Realizing the responsibility of watering the plants and to foster the importance of sustaining the green of our earth our tiny tots watered the plants.Parents also contributed by making the posters. On 19th April 2018 students of Pre nursery came in red , yellow and green attire for the purpose of colour recognition. A few class activities were also done.