The school celebrated its Golden Jubilee with great zeal and enthusiasm at Jawaharlal Nehru stadium on 5 Feb. 2016. Sunehera safar of GHPS India Gate was depicted by the students through cultural items which were mesmerizing. The programme was appreciated by the chief guests of the occasion Mrs Harsimrat Kaur Badal ( union cabinet Minister of food Processing Industry of India), Mrs. Najma Heptulla (Minister of Minority Affairs) and S. Manjit Singh G.K (President DSGMC) Stupendous performance was given by all the branches of Guru Harkrishan Public Schools.
---
GOLDEN JUBILEE CELEBRATION
Guru Harkrishan Public Schools being run under the Delhi Sikh Gurdwara Management Committee completed its half centenary (1965-2015) on 19th July this year. The Guru Harkrishan Public Schools, affiliated to the CBSE were established with the sole purpose of offering quality education interspersed with moral and ethical values. Humble beginning of the chain at Shiekhupura House now known as GHPS, India Gate, with 291 students and 20 staff members only now caters to 22000 students in 12 temples of learning in the capital city itself.
The Golden Jubilee Celebrations started with the commencement of Sehaj Paath and a Health Camp in April 2015. The Samapati of Sehaj Paath recited by students from all the branches was held on July 18, 2015 followed by a Kirtan Samagam at Bhai Lakhi Shah Vanjara Hall, Gurdwara Rakab Ganj Sahib on 19 July 2015 followed by fireworks. The students of GHPS India Gate dressed in Golden attire, rendered a soulful recital of Gurbaani and mesmerized the sadh sangat.
The program also saw the rendition of the school Shabad Deh Shiva Bar Mohe by the members of Mitr Pyare Alumni Association. Principal Mrs. D. K. Dhingra took the audience through the 50 year journey highlighting the milestones achieved of 50 years. S. Manjit Singh Ji G.K President DSGMC also an alumni of the school, congratulating the school Chairman S. Balbir Singh Kohli and Manager S. Inderpreet Singh Ji Captain, assured that he and his team will leave no stone unturned to establish G.H.P.S as a world class institution.
---
CELEBRATION OF PRAKASH UTSAV OF GURU HARKRISHAN SAHIB JI AND 49TH FOUNDER S DAY

---
Guru Harkrishan Public School, India Gate celebrated the Prakash Utsav of our Patron Saint Guru Harkrishan Sahib ji and the 49th Founder s Day on 25th July 2014 with great pomp and show. Seeped in religious fervour there were inspiring Speeches, Poems and Gurbani Shabad recitals by Junior, Senior segment students and G.H.P.S Alumni.
The occasion was graced by the presence of DSGMC President S. Manjit Singh ji G. K., Sr. Vice President S. Ravinder Singh ji Khurana, Jr. Vice President S. Tanvant Singh ji and other distinguished dignitaries. S. Manjit Singh ji G.K. inaugurated Mitr Pyare Alumni Association. He congratulated the former students of GHPS and appreciated their speculation for the upliftment and betterment of G.H.P.S. India Gate. S. Manjit Singh ji G.K. granted us permission to initiate two competitionsin the name of our honoured Founders Jathedar Santokh Singh Memorial Inter School Festival and Mata Satya Kaur inter GHPS Kirtan Competition. He announced that the winning team would be felicitated with the Rolling Trophy along with a cash prize of Rs. 31,000 (Thirty One Thousand). School Principal, Mrs. Davinderjeet Kaur Dhingra conveyed her gratitude to the esteemed guests and exalted the students untiring hard work, devotion and dedication.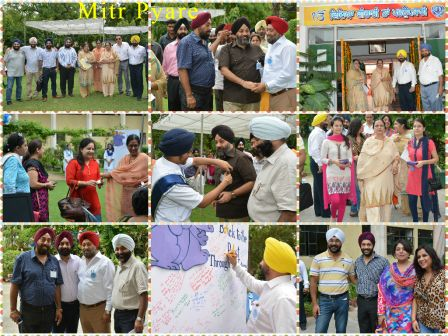 ---
Our school GURU HARKRISHAN PUBLIC SCHOOL, INDIA GATE has paved its way into the 50th year of its inception in the July 2014.Envisioned by late Jathedar Santokh Singh Ji and established in 1965 by Delhi Gurdwara Prabandhak Committee, the school has trailed ahead gloriously and carved a niche for itself in the field of education.
Once known as Sheikhupura House, today GHPS, India Gate, with bountiful blessings of Akal Purkh Wahaguru ji and that of our ancestors, has acquired a brand name for itself which needs no recognition. We consistently strive to provide a steady platform to our young ones to display their inherent talent. The contribution rendered by all the branches of GHPS in the course of this long and enriching journey is humbly acknowledged by our school Management.
Host of activities have been planned to commemorate the 50th year of our remarkable service to the society Inter GHPS Kirtan Competition being held from 29 to 31 october 2014 .
Junior Group
Middle Group
Senior Group
Health and Wellness Camp
---
New Delhi: Guru Harkrishan Public Schools are celebrating their 50th year of excellence. To commemorate the Golden Jubilee Year a number of competitions & programmes are being organized by DSGMC. Coinciding with the auspicious occasion of Baisakhi & to spread the message of our Patron Guru the master of mega community service Guru Harkrishan Sahibji, Health & Wellness Camp Mind, Body and Spirit was organized in Guru Harkrishan Public School, India Gate on Monday, 13 April 2015.
A Blood Donation Camp by Mission Jan Jagirti was also organized. Students, their Parents and Teachers donated blood generously. Students of Team CAN (Care About Nation) worked arduously sensitizing the masses towards cleanliness Swachch Bharat Mission.
The students from all classes accompanied their parents and availed the various health benefits like Dental Check-Up, Eye-Testing, Diabetes Testing, Height & Weight measurement, BMI, Blood Pressure Monitoring & Bone Density check –up. They also visited Health and Hygienic food and many other stalls.
Arambh of Sahej Path was organized in GHPS (IG) where all branches of GHPS would be contributing their sewa towards it.
The complete event was initiated under the great guidance of President DSGMC. and Chairman GHPS Society S. Manjit Singh G.K., General Secretary DSGMC. S. Manjinder Singh Sirsa & School Principal Mrs. Davinderjeet Kaur Dhingra.