30 students of classes IX, X and XI along with science teachers. Ms Navneet Kaur, Ms. K. Ghai and Ms. Varsha visited India International Science Festival 2016 on December 9, 2016 held at CSIR-National Physical Laboratory. The students were shown some science techniques like fractional distillation of crude oil, charcoal making, Cyclone-protected buildings. Some innovative projects like making Bioplastics from Bacteria, energy from Fly-ash etc. were also shown in which our students took a keen interest.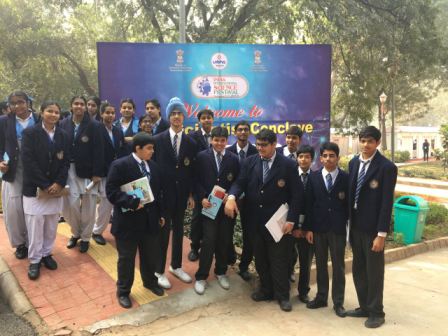 Helga Todd Teachers Education Foundation & the British Council conducted a workshop for Heads of English Departments of GHPS schools on Friday, 9 December 2016. This Interactive session was organized by Col. Jasbir Singh Nirmal, Director Education, GHPS (New Delhi) Society, at Guru Harkrishan Public School, Vasant Vihar.
Mr. Amal Fabian, the eminent spokesperson from British Council updated the teachers about various methodologies to be implemented to improve classroom teaching. Handouts & worksheets were given focusing on the communicative & vocabulary activities. Emphasis was also laid on the resources & creative teaching ideas to be assisted with the delivery of English language at school level. Mrs. P. K. Ahuja from GHPS (I.G) attended this interactive session. It was an enriching and educative experience.
A Sikh Marathon was organized on 11 December 2016. 28 students participated in this event with great enthusiasm. The event started from Gurdwara Rakab Ganj Sahib and it covered 5 Km radius.
Under the aegis of DSGMC, a workshop was conducted on Cimplify ED for the entire school staff on December 17, 2016. Cimplify ED is a Mobile and cloud based platform to establish a more direct and barrier less communication between the school and the parents. The resource person Mr. Deepak Singla upgraded the teacher,ss knowledge regarding the management of child,s education through Cimplify ED by highlighting the 3 most important Mobile Apps _ Cimplify Parent App, Cimplify Teacher App and Cimplify School App. Productive time of teachers and school staff gets consumed in maintaining attendance register, managing class diaries and sending repetitive information to the parents. With the use of simplify ED, Class Assignments, Examination Schedules, Report Card, Live GPS School/Bus Tracking, School Notices and lots more will be on our finger tips, saving a lot of time. This session was truly informative and in future, this app will provide both school and parents an instant digital access to the child,s education and progress.
105 students from Classes 7 & 8 of GHPS India Gate performed in a grand program organised by Punjab Govt. to celebrate Dashm Pitah Guru Gobind Singh's Birthday at IG Stadium on 18 Dec 2016. They shared stage with renowned artists including Harshdeep Kaur and Sukhvinder Singh right from the beginning till end.
Commemorating Gurbani Diwas, the school children & the entire staff congregated to recite Japji Sahib & Chaupai Sahib to pay Tribute to the Sahibzadas. This was followed by Ardaas Sahib. JAPJI SAHIB JI Gutkas were distributed to all on this occasion.
Martyrdom of Chhote Sahibzadas of Guru Gobind Singh Ji was observed in the school premises with great religious devotion on 26 December 2016. On this occasion, the students of middle segment recited Shabad, poem and enlightened the students with their inspiring speeches. In teacher,s talk, Mrs. Baljeet Kaur explained the tradition of Martyrdom in Sikhism and how the Sahibzadas were bricked alive but remained firm in their faith and fought bravely against injustice.