A special Morning Assembly was organized in the school premises on 9 October, 2017. A sincere appeal was made by the students of primary segment through the medium of a Nukkad Natak - Say No to Crackers. It was staged to generate awareness among the students about the harmful effects of crackers. An effective and confident message was conveyed through Anti-Cracker slogans written on placards. School Principal, Mrs. Davinderjeet Kaur Dhingra enlightened the students about the significance of the festival and also about why and how Diwali is celebrated across India .
Promoting Eco-friendly Green Diwali, the students of GHPS India Gate, participated in various activities over the week. Students brought in Green Plants & went to wish distinguished Members at DSGMC & Education Cell Let's celebrate GREEN DIWALI and encourage our little ones. We owe them a CLEAN & SAFE ENVIRONMENT
Our students of the Primary Segment participated in the activities organised at Bal Bhavan to commemorate 'Hand Washing Day'. Acknowledged as Team Swachh Bharat, they were given a Memento
An educational tour of the National Philatelic Museum at Dak Bhawan, was organized for the students of class VIII of Guru Harkrishan Public School, India Gate on 12.10.2017. The visit commenced with an introductory film showcasing the involvement of Indian post with young Philatelists. The museum has on display, a number of impressive frames of the post-independence era. The stamps, arranged beautifully in different sections like- sheetlets, thematic and stamps from different countries, fascinated the students. The main attraction for the students was the My Stamp Counter, from where one can get personalized stamps. The tour of the museum concluded with a drawing competition for the students followed by prize distribution. Overall it was a very informative and fun-filled event.
Benjamin Franklin had understood the true meaning of education when he said - Tell me and I forget, teach me and I remember, involve me and I learn. In continuation of our untiring pursuit to promote the learning of concepts that lay bare to us, the mysteries of this world ….this universe, our school organised Maths and Computer Science exhibition on 28 October 2017. The engrossing exhibits of the mathematical minds included models based on various topics such as addition & multiplication using circular grid, ways to learn trigonometric values of the standard angles, properties of quadrilaterals etc. Students showed their creativity, enthusiasm and confidence in different types of projects based on Computer Science like features of MS Word, evolutions of windows, Indian number, a model of computer etc.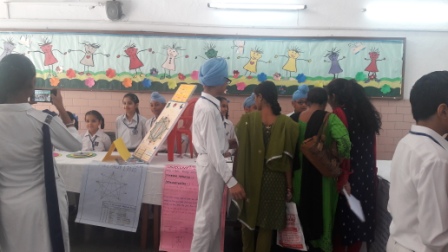 A session on prevention of drug abuse was organised for the parents on the day of declaration of result i.e. 28 October 2017. The resource person Ms. Tarunpreet from Drug Free World, India sensitised the parents about this menace and cleared some misconceptions on the topic.